ThiEYE Dr. X: Compact drone for-first timers
Little charming drone with intuitive controls
Do you want to pick exciting new hobby of RC piloting, but at the same time you feel a little overwhelmed by the hundreds of drones available in online stores from China? In this case, we have a quadcopter just for you. ThiEYE X is uses the latest technology and a variety of sensors like accelerometer, gyroscope and barometer to facilitate control and to maximize flight safety – and all this for less than $59.99. See what this little guy is capable of in our review.
Specs
| Feature | Specs |
| --- | --- |
| Control | App, Wi-Fi 802.11a/b/g/n |
| Maximum height | 20 m |
| Flight distance | 50 m |
| Battery | 3.7V, 650mAh LiPo |
| Flying time | 6 – 8 minutes |
| Storage | MicroSD Card |
| iOS | iOS 8.0 / Android 4.0.3 or up |
| Camera | Sony CMOS, 8.0MP, 1080p/30 fps |
| Size | 11.00 x 11.00 x 4.30 cm |
| Box contents | 1 x RC Drone, 2 x Propeller Guard, 1 x English Manual, 1 x Battery, 4 x Propeller, 1 x Micro USB Cable, 1 x Propeller Assembly Tool |
Pros and Cons
Pros
Easy to control
Surprisingly good camera
Precise, with a three axis gyroscope and accelerometer
Light and compact
One-touch takeoff and landing
Cons
Limited flight range
No GPS
Flight capabilities
If we are to compare this drone in terms of flying range and capabilities, it's quite similar to Xiaomi MITU, especially in terms of flying time that is limited to about 8 minutes, which is typical for micro drones. If you'd like to draw a slightly longer flight time, there is a variant called X Plus, which has exactly the same hardware inside, except of a dual 2 x 650 mAh battery, allowing it to fly about twice as long, plus it has a handy traveling case. The cell is replaceable and since it's the usual LiPo battery, you can swap it once it starts to deteriorate. MicroUSB cable is included in the box and the power level is displayed in the app.
Because this is a small and inexpensive quadcopter that wasn't built for RC racing, it has a quite limited control range of 50 meters and can climb no more than 20 meters. There is no GPS here, but nevertheless steering accuracy is top notch, as it uses a 3-axis gyroscope and a 3-axis accelerometer to get a set of data from the sensors, allowing it hover in the air with an acute precision of 10 cm. Two speed modes: low or high allow you to set the speed limit depending on whether you are piloting it inside the building or in the open field. Dr. X will also warn you when the battery level is low and will try returning to initial position if it loses reception from a transmitter. Just relax and fly it!
Controls
There is no external controller, but flying it on the smartphone app is very easy. Virtual buttons allow you to rotate it around the X axis and change the height (left handle) and move it horizontally (right handle). In addition, there are also American or Japanese "habits of control" to choose from, which actually changes between standard or headless mode, the latter being recommended for beginners.
Strong signal is transmitted over WiFi network and the drone must be paired up with the device befor flying. Calibration is done with a single push of a button and it's not necessary to perform any complicated operations like rotating it around every axis, etc. so you can power it up in no time. ThieEye App will work on almost every modern phone and tablets with iOS or Android version 4.03 or up.
Appearance and camera
This small and agile quadcopter easily fits on your hand and can be kickstarted by being thrown into the air (first you need to pick appropriate option in the app, obviously). Its design looks suspiciously similar to its contender DJI Ryze Tello, but it differs in the black and red casing color, which makes nice impression. The entire structure weighs only 85 grams and is made of durable and lightweight plastic, which shouldn't implode after the first collision with a tree (it can happen to anyone!). If you've never flown drones before, we recommend installing propeller guards during your first attempts.
Videos are shot with an 8.0MP camera equipped wit SONY CMOS lens, enabling 1080p/30 fps recording or 720p FPV live preview. Let us emphasize that is simply the best camera you can find in microdrones. For comparison, Xiaomi MITU's cam is only 2.0MP, while DJI Ryze Tello has 5.0MP lens. There is also selfie mode that allows you to pick any person in the app screen to easily take aerial selfies. Although there is no gimbal stabilization, it can capture really good images and video, despite suffering from a bit of shake.
Conclusions
This little charming drone is intuitive to pilot and even total newbies will be able to fly it on the first attempts. But ThiEYE Dr. X provides also features that will be appreciated by more experienced users such as flight precision, high responsiveness, camera like you won't in any other compact quadcopter. Range is limited though, so it will find its use indoor or maybe on opens space when it's not too windy. Given the low price of $59.99 at GearBest, we rate it as best bang for the buck compact quadcopter out there!
Gearbest.com
Gearbest.com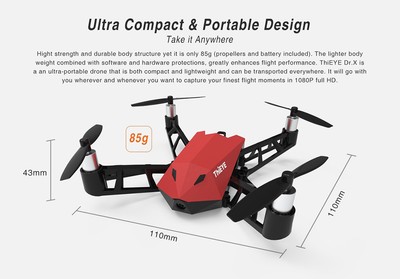 Ebay.com