Yunmai Mini 2 Smart Scale: Learn everything about your body
Get to know 10 different body parameters and save your data in the cloud
If you religiously count calorie intake, make balanced meal plans and sweat it out doing daily series of sit-ups and push-ups, you most likely have a body scale at your disposal. However, standard scales show the weight only, and that is quite a meager data range. If you'd like to learn more about your body and get to know muscle mass, amount of fat or biological age, you have to go to a dietician's office – or just step up onto the latest YUNMAI Mini 2 smart scale.
Specs
| Feature | Specs |
| --- | --- |
| Measurement range | 3 – 150 kg |
| Battery | 3 x 1.5 AA |
| Bluetooth | 4.0 |
| Accuracy | 0.1 – 0.3kg |
| Cover | Glass, ABS |
| Data storage | YUNMAI Cloud |
| Additional body data | Basal metabolism rate, BMI, Body fat, Body weight, Bone Mass, Moisture mass, Muscle Mass, Physical Age, Protein, Visceral fat level |
| Display | LED |
| Weight | 26.00 x 26.00 x 2.60 cm |
| Size | 1,2 kg |

Pros and Cons
Pros
Displays ten different body parameters
Lovely design
Precise
Low power consumption
Data saved in the cloud
Cons
Impossible to export data to Google Fit or other external apps
Measurement capabilities
So how does it work? Pressure sensor measures the weight, while electrodes made of stainless steel send a safe, low level electrical current through the body. This allows the weight to measure body impedance and compute the level of fat, muscle mass, bone mass, the amount of water in the body and other data – a total of 10 parameters. Measurements are then displayed in the app, accessible through any Android or iOS smartphone. In addition, the application also calculates the BMI, which is an indicator of how much the body weight fits within the overweight or underweight standards. According to the manufacturer, the device uses different frequencies of current transmitted through the body, which allows measuring various parameters with more reliable data than ever.
Operation
The large LCD screen displays the body weight in kilograms and Bluetooth connection status. Full measurement capabilities can be accessed by installing dedicated phone application that shows all data counted by sensors. This information is securely stored on your individual account in the YUNMAI cloud, so you can go back to view previous, historical data to easily assess your progress.
The app supports up to 16 users, so your entire family will be able to track weight. It also has this neat feature of setting up the goals: the weight you're aiming for. If you need a little bit motivation to eat less and exercise more, this might help you a bit in your fitness resolutions, because it displays the amount of kilograms you still have to drop to achieve your perfect weight.
Design and power supply
The looks of YUNMAI scale brings to mind the best Xiaomi style standards: minimal appearance, rounded shapes, high-quality materials and a white cover – a black version is also available. The previous version – YUNMAI 2, quite similar in appearance, even won an award at the international German design fairs IF DESIGN in "Medicine and Health" category, and that tells a lot about the designers! The LCD display is cleverly hidden in the glass, so it's not visible at first glance and lightens up as you stand up on the scale. As the name implies, it's quite small (but not so much you will be tiptoeing to fit in) and it can be easily hidden under the bed or in the bathroom corner.
It's powered by three 1.5V AA batteries and consumes very little power thanks to the energy-saving Bluetooth connection. Set of batteries should be sufficient for entire year of standard use.
In conclusion
If you obsess about weight and carefully count daily calorie intake, you will love YUNMAI Mini 2. Data cloud storage and auto save frees you from the necessity of making written weight loss lists, and the measurements of body fat, muscle, bone and water level seem to be very accurate. Remember however, that a slender body, flexible belly and tough muscles are hardly everything in life – it's your inside that counts after all. Wishing you a fruitful weight loss with YUNMAI Mini 2!
Gearbest.com
Gearbest.com
Aliexpress.com
Ebay.com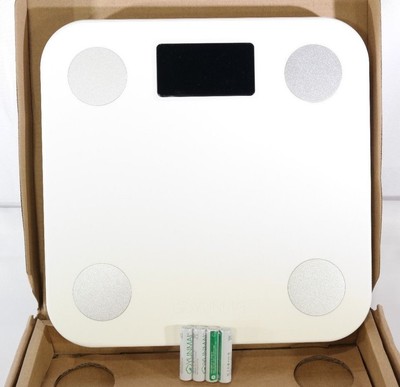 Ebay.com