Ninebot One C: Electric Unicycle with a 450 W motor
Ninebot One C is a one-wheeled vehicle of the future, powered by a brushless electric motor. This ecological device allows for safe driving around the city and is undoubtedly the most original vehicle that you will find in Chinese online stores.
Ninebot One C: Features
| Feature | Specs |
| --- | --- |
| Max payload | 100 kg |
| Max speed | 20 km/h |
| Range | 22 km |
| Climb ability | Up to 15 degrees |
| Cell | 4.1 Ah Li-ion |
| Motor power | 400 W (brushless motor) |
| Tire diameter | 16 inch |
| Bluetooth | 4.0 |
| Weight | 13.8 kg |
| Box contents | 1 x Unicycle, 1 x Charger, 1 x English and Chinese Manual, 2 x Bumper stickers |
Pros and Cons
Pros
Stable and safe driving enabled by a precise gyroscopes
A good battery with a range of up to 22 kilometers
Can climb hills up to 15 degrees
Looks sleek and futuristic
You can drive on roads, pavement, grass
Inexpensive compared to capabilities
Driving capabilities and battery
Riding on unicycle may seem like an extremely difficult task, but in practice it is as simple as riding a bike. Gyroscope system assists in maintaining proper balance, and it works not only on asphalt roads, but also on pavements and even on dirt roads or  grassy surfaces. The ride is supported by 16-inch wide tires that grips the road well, and the maximum weight of the person being transported is 100 kilograms. Ninebot One C can overcome terrain obstacles up to 15 degrees of slope. Maximum safe speed is 20 km/h, and in practice you can go much faster, especially downhill or on a good road. The brushless motor has 400 W rated power, so you can count on quite a good acceleration too.
Innovative Li-Ion battery, with design inspired by a double DNA helix, has smart charging and discharging capabilities, that extends cell durability. It has a capacity of 4.1 Ah / 55.5V, which provides a range of 18-22 kilometers, with charging time of up to 4 hours. LEMO plug charger is waterproof, though be aware that it was designed for Chinese electrical sockets, so you need an appropriate adapter to adapt it to the European socket (available for just a few bucks on GearBest or Aliexpress).
Control and safety
The vehicle is controlled basically by a leg movements that cause direction changes and by braking with knees, by pushing polyurethane brake cleverly hidden at the top of the casing. Driving safety is guaranteed here by numerous gyroscopes and a fast processor that analyzes thousands of data from the environment and that transmits feedback to the vehicle balance control system. If the sensors detect an unusual behavior of the vehicle (eg. the danger of falling due to excessive heel) they inform driver to slow down by a light signal, vibration or tilt.
Because this is a smart vehicle, a complete range of smartphone control options is available to the user. These include automatic firmware updates, vehicle diagnostics, and even a beginner's tutorial. The app connects to a smartphone via Bluetooth 4.0 and will work with all popular phone models.
Design and construction
Ninebot One C looks extremely futuristic with its backlit rim around the case and lights in 65 thousand colors to set on the app. Entire vehicle weighs 14 kilograms and is made of aircraft grade materials: light and durable magnesium alloy and modern LEXAN PC plastic. Pedals are covered with non-slip rubber, so you can put your feet on them comfortably and safely, even when riding in the rain. One C also features a modular construction, which allows for easy upgrades and part replacements – that will certainly appeal to DIY enthusiasts.
Summary
Ninebot One C is undoubtedly the most original electric vehicle that can be found at GearBest. Unusual look and bold design might not be for everyone, but once you'll ride this unicycle, you'll love it. Available at a great premiere price on GearBest (you can buy DIY parts on Aliexpress), this might be the next big thing!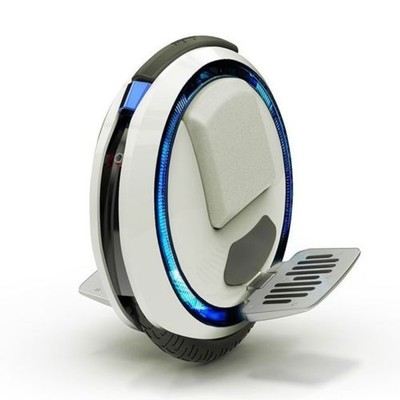 Ebay.com