Xiaomi Soundbar: The Power of Sound in 33 Inches
Magnificient sound quality and minimal design: all you'd expect from TV Soundbar
There is a real arms race going on when it comes to image quality between TV manufacturers. Television sets makers race for the larger screens and the bigger resolution – now at 8K! Despite this unquestionable technological advance, the sound quality essentially stays in place. In order to achieve wide frequency response, high volume and natural tone, large speakers are required and it's hard to fit subwoofer into flat display. In order to enjoy HiFi soundtrack, Xiaomi designed the missing piece of this cinematic puzzle: a soundbar consisting of eight speaker units that you can connect to TV or other devices, using a cable or wireless interface.
Features
| Feature | Specs |
| --- | --- |
| Frequency | 50Hz – 25000Hz |
| Impedance | 6 ohm |
| Speaker units | 8 |
| Wireless connectivity | Bluetooth |
| Inputs | Coaxial, S/PDIF, RCA i AUX |
| Control | Buttons and Bluetooth |
| Color | White |
| Size | 83.00 x 7.20 x 8.70 cm |
| Weight | 1,92 kg |
| Box contents | 1 x Soundbar, 1 x Chinese manual, 1 x Adapter, 1 x SPDIF Cabel, 2 x Screws |

Pros and Cons
Pros
Magnificient sound quality
Sensational retro design in a minimalist style
Can be hung on the wall
Simple controls and instant Bluetooth connection
Best bang for the buck
Cons
Manual is in Chinese only
No remote control

Sound quality
Regardless of whether you will use this soundbar as a home cinema system in conjunction with TV or to blast your favorite tunes from a smartphone or tablet, you will be delighted by audio quality. While watching movies you'll feel like the actors are standing next to you and sound effects in video games are brutally realistic. This magnificient tone quality was achieved by hybrid set that consists of eight loudspeaker units, which include:
Two 20-core, 0.75-inch high tone speakers
Two dual-tone 2.5-inch subwoofers
Four passive 70 x 55 mm mid-range spectrum speakers
That's four times as many speakers as regular stereo set 1 + 1 that you'll find in TV or laptop and since different units are tailored to different frequencies, this allows for grand bass and treble boost. Audial experiences are incomparably better than vanilla TV stereo speakers. The only upgrade we can think of would be independent speaker units, allowing to get non-emulated, real surround sound in the Dolby 5.1 standard.  We're sure that Xiaomi is already working on it!
Operation and interface
The operation is trivially simple – just plug a cable to one of the inputs (Aux In, Line In, SPDIF or Optical) coming from TV, video game console, MP3 player. The box contains only the Chinese manual, but you shouldn't have any problems whatsoever with handling this soundbar. You can also control volume through buttons at the top. Unfortunately, the set lacks a remote, which is a bit of a surprise.
In addition, Xiaomi soundbard provides Bluetooth connectivity, so you can easily connect it wirelessly to smart TV, tablet or smartphone. Its transmitter has relatively strong reception and can be controlled even from a distance of up to 10 meters, depending on walls.
Design
Xiaomi has never disappointed us with their taste in design, always striving to create unique compositions that combine a minimalist look and a convenience of use. The elegant white cover and a slightly gray fabric covering the front of the speaker is an element of interior design itself and will blend in perfectly into any living room. The speaker can be placed on a TV shelf or screwed up to the wall. There are two holes on the back designed for this purpose, and the screws will fully support the weight, especially since it's quite light.
Conclusions
Xiaomi Soundbar is simply a must-have addition to any TV set, and this equipment can also act as wireless speakers for your computer, tablet or phone. The only flaw here is the lack of a remote control – perhaps voice control would be practical solution, although it would certainly affect the price. And at about $80 with free shipping, this is a bargain you can't miss. Buy it now and blast the music!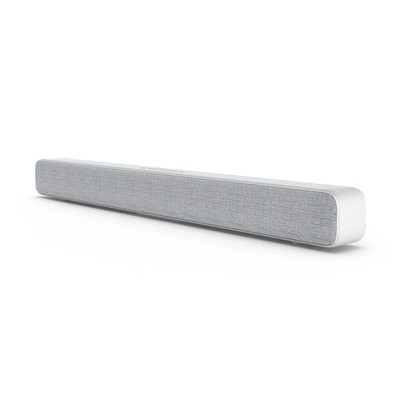 Ebay.com