Xiaomi WiFi 4 Router: Fast and Secure Wireless Network in Your Home
If you are concerned about slow WiFi connection and suffer from constantly buffering Netflix or Youtube videos or maybe you have an old router with outdated security protocols, it's about time to get rid of your obsolete network device. The latest, fourth version of Xiaomi broadband router offers even more extensive control features, faster data transfer and safer connection for ultimate home network experience.
Features
| Feature | Specs |
| --- | --- |
| CPU | MT7621A |
| Internal memory | 128MB |
| RAM | 128MB DDR3 |
| Transmission Rate | 1167 Mbps |
| Network Protocols | IEEE 802.11a, IEEE 802.11ac, IEEE 802.11b, IEEE 802.11g, IEEE 802.11n, IEEE 802.3, IEEE 802.3U |
| Wireless Security | WPA-PSK |
| WiFi Frequency | 2.4GHz, 5GHz |
| LAN ports | 2 |
| Antennas | 4 |
| Power supply | 12 V |
| Weight | 0,55 kg |
| Size | 20.00 x 13.10 x 2.35 cm |
| Box contents | 1 x Xiaomi Mi Router, 1 x Power Supply, 1 x Chinese manual |
Pros and Cons
Pros
Quad antennas provide excellent coverage and a strong WiFi signal
Latest network protocols for 1 Gigabit Ethernet and 867 Mbps WiFi
MiNET button allows fast device pairing
Supports up to 128 devices at the same time: perfect not only for home use, but also for large office networks
Fast processor and 128 MB RAM
Mobile app supports additional network control functions in your smartphone
Inexpensive compared to overall capabilities
Cons
Manual is in Chinese only

Performance and transmission speed
Xiaomi WiFi Router 4 is upgraded in every aspect comparing to the previous versions, and it uses the latest 802.11 ac network protocol, which is three times faster than the Wireless-N connection. The maximum transfer speed in the WiFi network is 867 Mbps for the 5.0 GHz band and 300 Mbps for 2.4 GHz, so you won't be complaining about low download speed, high ping in online games and buffering videos on VOD sites, even at played at highest resolution. And if you'd like to get even higher speeds, you can plug it into Ethernet to achieve a 1 GBps transfer – can't go faster than that! There are two LAN slots available for cable connection. Lightning-fast internet couldn't be possible without equally powerful hardware controlling the router. MT7621A dual core processor and 128 MB RAM can smoothly handle any incoming internet traffic.
As if that was not enough, four external antennas with 5 and 6 dBi gain ensure a proper propagation of Internet signal in entire house (and even outside the building). WiFi will be accessible even in  multi-story buildings, without the need for additional amplifiers.
Xiaomi also took care of the data protection by offering a multi-level security system in the form of WPA-PSK protection, rightly giving up outdated WEP that is vulnerable to  brute force attacks. Additional protection layers consist of hardware firewall, multi-level device authentication and spoofing protection.
Operation
Setting up the router and attaching new devices is really simple and will take literally 2 minutes. New computer can be added to the network by entering the password defined during the installation of home network, or by using the MiNET button on the router casing, which can automatically connect and configure the device in the network (works on selected devices, mostly laptops).
Android app adds the capability to manage connections across the entire network, enabling preview of connected devices, closing access and limiting transfer rates for each of the network's clients. It also allows you to measure the actual network speed, optimize WiFi connections, and smart bandwidth management to increase the transfer efficiency to prevent leeching when several devices are connected.
Design and build quality
The Xiaomi WiFi 4 router is built in the classic, minimalist Xiaomi style that we all like, with small logo printed in the middle, so it should look good in any living room. Antennas are adjustable, and they can be hidden, which shouldn't lower signal power much, at least for devices located near. This router is much heavier than similar devices from other manufacturers, but since it has more processing power, there was need for passive cooling in a form of heat sink and a bottom metal casing, made of magnesium alloy which adds to overall weight. It's quite flat though, so when you fold the antennas, it can easily fit into a limited space, like on the shelf under the TV set.
Conclusion
This is simply the fastest WiFi router you can buy, with a large range, strong signal amplification and an elegant, minimalist look. Its only drawback is lack of English manual, but because it's easy to use, you don't have to be a computer wizard to set it up and it's not necessary anywany. We recommend Xiaomi WiFi Router for your home or office wireless network!
Aliexpress.com
Aliexpress.com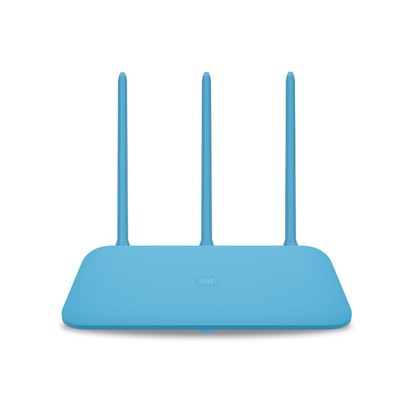 Ebay.com