Chuwi Lapbook Air: Featherlight Laptop with 14.1" Display
Thin and light 14.1'' laptop with Windows 10 and big battery
If you're looking for a reliable and featherlight laptop with a good battery and a wallet friendly price, here's PC just for you. New Chuwi Lapbook Air is a full-sized notebook with large screen, that you can actually use for productivity or entertainment.
Features
| Feature | Specs |
| --- | --- |
| CPU | Intel Celeron N3450 Quad Core 1.1GHz do 2.2GHz |
| GPU | Intel HD Graphics 500 GPU |
| RAM | 8 GB |
| Storage | 128GB eMMC |
| OS | Windows 10 |
| WiFi | 802.11b/g/n/ac |
| Display | 14,1 inch, 1920 x 1080 (FHD) |
| Camera | 2.0 MP |
| Battery | 7.6V / 5000mAh |
| Size | 32.92 x 22.05 x 2.05 cm |
| Weight | 1,74 kg |
| Box contents | Notebook x 1, Charger x1, English Manual x 1 |
Pros and cons
Pros
Resaonably fast with Intel Celeron CPU and 8 GB of RAM
Large 14.1 inch screen
Powerful battery – up to 8 hours of work
Windows 10 preinstalled
Featherlight and 6 mm thin
Excellent price for what it can do
Cons
eMMC disk has limited capacity and isn't really fast
Performance
A quad-core Intel Apollo Lake CPU that has a maximum burst speed of 2.2 GHz is simply the best choice for laptops like this one, providing the perfect balance between performance and energy efficiency. This 14nm processor is optimized for multitasking in Windows 10 and in combination with the ninth-generation Intel HD graphics card and as much as 8 GB of RAM, allows fast and efficient work in office applications, website browsing or playing less demanding games. This is obviously not a gaming PC though, so keep that in mind and don't expect gaming prowess, as it lacks dedicated GPU. The set includes authorized Windows with English language preinstalled, and additional languages ​​can be freely downloaded.
The only thing we're not digging here is 128 GB eMMC storage, as this technology is more suitable for tablets, not PCs. Not only it doesn't impress with capacity, but it's much slower than SSD drives. Fortunately, there is an M2.SATA slot that allows you to add your own SSD disk, or you can get even more space for files by plugging in USB flash drives attached via fast USB 3.0 interface. This is actually a necessity, considering that the preinstalled Windows 10 itself will occupy at least 30-40 GB of disk space.
Display and other features
Big 14.1'' wide screen is capable of displaying in Full HD 1920 x 1080 px resolution. Its strong contrast and high color saturation will definitely win you over and make watching movies or TV series online most pleasant experience. Unlike other Chuwi Lapbooks bezels are finally thin and give it a top-range appearance. The panel is also scratch resistant thanks to Its 0.2 mm lamination and 7H hardness.
The 2.0MP webcam is a laptop standard and allows you to make video calls or selfies in a decent quality. There is even dual microphone, with noise reduction features so sound quality is pretty good – you can even try recording video blogs with this gear. 7.6V / 5000mAh battery combined with energy-efficient hardware allows up to 8 hours of work on a single charge. Actually it might be one of the best results in similar laptops, considering that it powers up 14.1'' wide screen!
Appearance and usability
In terms of looks and design it brings to mind computers from the Sony Vaio series or possible Apple iMacs: light and elegant thin laptop with a metal casing. This mobile PC weighs only 1.74 kg and it uses aluminum and magnesium alloy as the casing material, giving it nice mat and great durability. It's only 6mm thin, so it really is portable and can be your trusty mobile office.
And it's not tiny ultrabook either, with screen for the ants, but with a full-sized laptop with a large backlit keyboard and a big touchpad for serious work. The keyboard and the back logo, is softly backlit, which makes it easier to work at night – although we recommend appropriate lighting, such as the Xiaomi desk lamp.
Conclusions
This is simply one of the best laptops that you can get for less than $349.99. Insignificant shortcomings like eMMC storage shouldn't detract you from buying this computer. It is slim, fast and has a good battery: what else would you expect from mobile PC? Top choice for a stupendous value.
Aliexpress.com
Aliexpress.com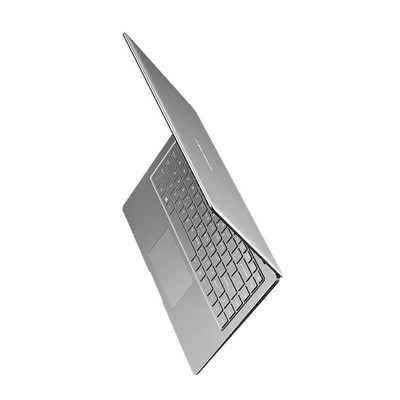 Ebay.com