Hubsan DESIRE PRO: Inexpensive Quadcopter with FPV 1080p Camera and GPS
HUBSAN is a worthy competitor of brands such as DJI or Parrot and is leading producer among budget drone manufacturers. The new H216A X4 also known as Desire PRO is an inexpensive quadcopter with a 1080p camera, GPS and WiFi connection, offering lots of fun for inexperienced pilots.
HUBSAN H216A X4 Desire Pro – Unboxing
Hubsan Desire Pro is available with free registered shipping at GearBest and we've received it within three weeks after ordering. Here's what's  in the box:
The back of the box contains component and capabilities presentation. GPS support, ability to set the flight route and real time FPV are definitely the features that you'd normally find in much more expensive drones!
All the technical details are printed on the side of the box. WiFi control allows an effective range of 50 meters, and a 750 mAh battery operates for a maximum of 12 minutes, with a charging time of 130 minutes. The device supports memory cards up to 32 GB with a speed class 10.
And here are the unpacked contents of the box. In addition to the quadcopter itself, there are screws and screwdriver, four spare propellers and propeller covers that might be optionally installed for protection. Power supply cable will work with USB smartphone charger. The HT009 joystick and English manual complements this packaging.
Close-up on the camera. Large lens with a sensor recording at 1920 x 1080 px resolution ensures really good video quality.
This is how it looks in flight. Very easy to set up and simple to control!
| Feature | Specs |
| --- | --- |
| Motor type | Brushed |
| Battery | 7.4V 610mAh |
| Flight time | Up to 12 minutes |
| Charging time | 150 minutes |
| Video resolution | 1920 x 1080 px |
| Control range | About 50 m |
| Transmitter power | 4 x AAA batteries |
| Size | 18.00 x 18.00 x 6.00 cm |
| Weight | 147 grams |
| Box contents | 1 x RC Drone ( Battery Included ), 1 x HT009 Transmitter, 1 x USB Cable, 4 x Propeller, 4 x Propeller Guards, 1 x Screwdriver, 1 x Set of Screws, 1 x English Manual |
Pros and Cons
Pros
Battery works 12 minutes
Easy to control, lands and returns home with one button
Extensive GPS navigation options with waypoints
Really good video quality in 1080p
Best bang for the buck
Cons
No power switch on the housing
WiFi has an effective range of up to 50 meters
Flight options
The effective range of controller is no more than 50 meters and it's limited by the WiFi connection parameters on the mobile device that is used to control the drone. The solution for extending this range is the use of a WiFi repeater (or signal amplifier), plugged into USB port on your smartphone or tablet used to fly Desire Pro. Quadcopter flies really fast and can climb up to 30 meters in a few seconds – so the brushed motor used here must be quite strong. The function of altitude hold and the headless mode, i.e. piloting by the absolute direction of quadcopter, increases the comfort of flying and makes it perfect equipment for beginners.
The 1080p camera can shot some really nice aerials videos and takes good photos with three-axis image stabilization, so it might be suitable not only for simple selfies, but you can possibly use it for semi-professional applications like a wedding photography. Camera preview is available in FPV mode, i.e. in real time, so you'll see it during piloting on your smartphone screen.
Controls
There are two methods of controlling the quadcopter: directly through phone or tablet app or by joystick. In the first case, simply install the app, configure the drone, pair it with the mobile device and you can start flying. If you prefer HT009 joystick, which is less flimsy than virtual throttle, you need to install the app and connect drone with the smartphone and additionaly, pair joystick with smartphone through Bluetooth. The controls are really simple, with left throttle controlling climbing and rolling and right throttle steering position in X/Y axis. Headless mode makes it easy for beginners to fly.
GPS navigation enables to set waypoints in the app by drawing them on Google Maps or by entering coordinates. It works quite effectively, although precision isn't the greatest. This navigation efficiency also depends on the number of available satellites, thankfully displayed in the app and Hubsan recommends automatic flight with at least six satellites visible to the drone. GPS also allows you to return to the base (or home) with a single button, available in the application and on the controller. There are also security measures: when the connection is bad or the battery level is low, quadcopter will try to return home, gradually reducing the speed and altitude, so it shouldn't end up crashing on someone's head.
Design  and battery
For a budget drone build quality is quite good. Construction is made of plastic, there is no carbon fiber or aviation-grade aluminum, but the entire Desire Pro weighs about 160 grams (+ optional propeller covers that weighs 10 grams), making it lightweight and agile. The only design flaw would be the lack of power switch on the casing. To start this quadcopter you need to open the flap on the back of the case and connect the wires, which will turn on the power – not the most obvious solution, especially that you can't quickly power it off in case the signal is lost. The third cable is used to charge the battery, and there is Mini USB plug that allows you to transfer files from the memory card. Manual isn't helpful in this regard and doesn't mention this, so users will have to figure it out.
610 mAh battery allows for 11-12 minutes of flight with a charging time of about 2 hours and this is the best result for quadcopters this size and price. The propeller LEDs informs the pilot about various states, displaying different color combinations, which warns about battery running low or required geomagnetic calibration.
Conclusion
You won't find a quadcopter with so much cool features at a low price: with a flight time of 11-12 minutes, GPS, 1080p camera – all for less than $100 at GearBest and in other Chinese online stores. It's very easy to use, so it's the perfect drone for beginners.
Banggood.com
Aliexpress.com
Aliexpress.com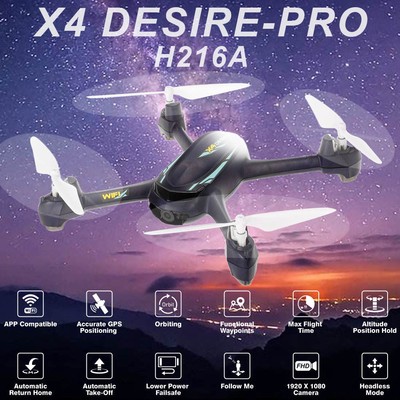 Ebay.com