Creality3D Ender 3: Affordable 3D printer with superb printing accuracy
Creality3D Ender 3 is possibly the best 3D printer below $200
If you'd like to start your foray into the exciting hobby of 3D printing, it's worth picking up inexpensive beginner device that will be simple to use, easy to assemble and will provide quality printouts. All these conditions are met by Creality3D Ender 3, a recently released 3D printer that has already garnered a wide range of loyal and enthusiastic followers. See what's so captivating about this machine and what can it offer to newbie and seasoned makers.
Features
| Feature | Specs |
| --- | --- |
| Nozzle diameters | 0.4 mm |
| Working area | 220 x 220 x 250 mm |
| Layer thickness | 0.1 – 0.4mm |
| Precision | ± 0.1mm |
| Interface | Mini USB or memory card, LCD display |
| Filament type | 1.75mm PLA / TPU / ABS |
| File formats | STL / OBJ / G-Code |
| Weight | 8 kg |
| Size | 440 x 410 x 465 mm |
| Power supply | DC 24V 15A 360W |
Pros and cons
Pros
Quite large working field
Easy to assemble
Simple leveling process
Big display
High precision for all kinds of filaments
Moddable, tons of modifications available
Very popular on forums, easy to get advice
Possibly the best 3D printer below $200
Printing capabilities
The most important feature of every 3D printer is the printing precision and in this respect Ender 3 performs simply fantastic, no matter what kind of filament you're using. Printed objects have sharp, empasized edges and a solid, non-melted structure, especially when printing on reduced speed. The finished objects are easily detached from the hotbed, made from metal alloy suitable for high temperatures. Ender 3 copes well with any type of material, including wooden PLA – which is actually a plastic with wood particles. Working area size is 220 x 220 x 250 mm, which means you can create quite big items effortlessly.
All popular file formats, such as STL and OBJ are supported, and the Open Source Cura software will allow you to easily resize and modify working files. All software required for work, including drivers, is uploaded on the memory card that comes with the printer or you can download it for free from Creality3D site.
Assembly and operation
This is a DIY kit, so before you start playing with this gear, the printer needs to be assembled. But if you haven't had much to do with DIY, have no fear – it's really simple. The box has a lot of components, but their assembly will take you no more than half an hour and includes attaching cables to the sockets, connecting modules and screwing a dozen or so screws. The leaflet that is assembly manual consists of only 12 steps, and in addition there are plenty of Youtube tutorials made by enthusiasts from around the world that present how it's done. Piece of cake!
After assembling the printer, it should be leveled, that is aligned, to the table surface to ensure the best precision. You will do this through several trials, and the calibration is carried out with the help of large knobs located in the four corners on the bottom of the hotbed. Controlling the print and leveling process is easy and actually requires no computer connection, though you can plug it into your PC through USB if you want. The menu is displayed on a large LCD screen with an interface available in several languages, including English. This will allow you to select files to print from a memory card and customize various settings such as printing speed. The only thing you'll need will be actual files – and these can be freely downloaded from hobby portals like Thingiverse.
Appearance and other features
In terms of design, Ender 3 is a typical 3D printer from China with sturdy frame made of aluminum profiles. Its integrated base houses motherboard and the 360 ​​W power supply, which has enough power for trouble-free operation even during long print processes of larger objects. The Bowden type extruder is probably the most practical filament carrier and replacing printing material or cleaning nozzle is really easy. It can also resume work in case of power failure, so you will not waste filament if such accident happen.
The Ender 3 printer has been available on sale for some time now (it already has over 70 user reviews on GearBest) and there are a large number of mods available for this printer, i.e. additional third-party upgrades. All3DP.com lists twenty best mods for Ender 3 and among interesting upgrade are for example glass heating plate with higher tolerance to temperatures, allowing to work with even more diverse range of filaments, TL smoothing module, increasing precision of printout precision and so called "dampers", which are pads used in order to reduce the noise level. There are even printable mods available on Thingiverse to further improve printing capability.
Conclusions
Creality3D Ender 3 is an extremely popular 3D printer and certainly this good reputation is well deserved: sturdy build quality, ease of use and excellent print precision make this device touted on makers' forums. Don't be deceived by its low price: although it costs less than $200, after adding a few mods, it turns into professional equipment you'd otherwise buy for several thousand bucks. Click the links below to pick it up with free shipping from online stores.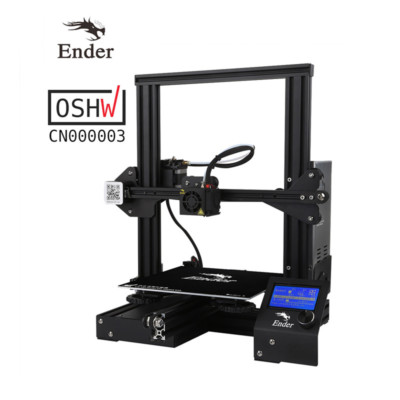 Ebay.com